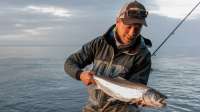 COASTAL ANGLING
BOAT ANGLING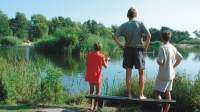 FRESH WATER ANGLING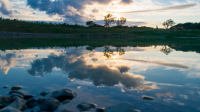 PUT & TAKE
Surrounded by water on all sides and with a coastal line of over 600 km, Lolland Falster is a bit of an angler´s paradise. Not just in relations to coastal fishing, because we also have great opportunities for lake, stream, bog and fjord fishing, just as we have several put & take lakes available.
At Stubbekøbing, coastal fishing predomoinates. Along the entire coast of Grønsund; from Stubbekøbing eastwards to Næs, around the point and further south to Hesnæs you will find a number of great fishing spots. You will be fishing for hornfish, sea trout and mullet.
Other good fishing opportunitues includes the bog Borremosen by Virket, in the gravel pits of Bavnehøj Leisure Area by Nørre Vedby or pier fishing at Stubbekøbing Harbour.
We recommend that you use the naturlandet.dk app, where the various locations are described, and useful information regarding terms of access, weather conditions etc can be found. The app is available in both English and German.